I know that you guys are going to argue all day about who should be on this list. So here we go: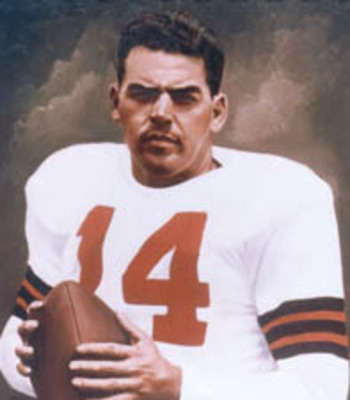 1.
Otto Graham
Graham was selected to 5 Pro Bowls and was a two-time NFL MVP. He played his entire career with Cleveland. He was supposed to play for the Detroit Lions, but was obligated to serve in the US Coast Guard.
Graham led the Browns to seven championships in his first 10 years, and only lost 13 games throughout his career.*
Graham's 57-13-1 record as a starter in the NFL represents the highest winning percentage of any quarterback (.810)
2.
Joe Montana
Joe Montana has won four Super Bowls (XVI, XIX, XXIII, XXIV), an eight-time Pro Bowler, a two-time NFL MVP, and a three-time Super Bowl MVP and is on several of the NFL's all time records lists.
He and Jerry Rice are currently second on the all time list for touchdowns from quarterback to receiver, only behind Peyton Manning and Marvin Harrison.
3.
Tom Brady
Tom hit the New England scene in 2001, filling in for the injured Bledsoe. Tom would lead the Pats on to their first of three Super Bowl championships.
Tom has the NFL record for Most Touchdowns in a Season with 50 and most touchdowns in a quarter with 5. Tom led the Pats to a 16-0 season in 2007 and made the Super Bowl, but lost to the N.Y. Giants.
Tom is a five-time Pro Bowler, an NFL MVP and a two-time Super Bowl MVP.
4.
Peyton Manning
Manning has kicked the label of "The next Dan Marino" by winning the Super Bowl in Feb. 2007.
Manning is a 10-time Pro Bowler, has an NFL record four NFL MVP awards, a Super Bowl MVP, and is the youngest player to reach 50,000 passing yards, 300 touchdown passes and is already fourth on the all-time wins list with 131 wins.
5.
Bret Favre
He would be at the top of the list if he had won more Super Bowls. He holds just about every major record in NFL history. He currently No. 1 in passing yards, touchdowns, wins, and of course interceptions.
Favre is an 11-timer Pro Bowler, a three-time NFL MVP, a Super Bowl Champion, and a five-time NFC Player of the Year.
Favre will forever be immortalized in football history as one of the best to ever play the game. I am sure they already have a nice area in Canton picked out for his bust to go in about five or six years.
*Most important Stat
Stats researched and provided by