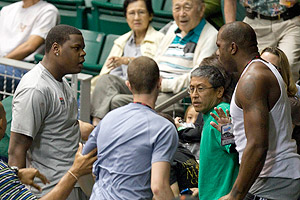 Mississippi State teammates Renardo Sidney, far left, and Elgin Bailey, far right, fought in the stands Thursday night
.AP Photo/Eugene Tanner
 The most dangerous person in the world is a kid that isn't afraid of anything or anyone. All too often we're witnessing the results of poor parenting or essentially no parenting at all. When we see children that aren't ashamed of acting a fool in public or embarrassing their family's name that's a serious problem. It's evident that they haven't been taught to respect themselves or their families. When I was coming up we were taught that the family name meant something and you didn't dare drag it through the mud.
On Thursday night Mississippi State basketball players, sophomore forward
Renardo Sidney
and junior forward
Elgin Bailey
were suspended indefinitely for their altercation in the stands at the Diamond Head Classic. Now granted they weren't on the island taking a vacation. They were there to play in the tournament itself. Actually they had just beaten San Diego 69-52 earlier in the evening and were just about to watch the second game of the night when all hell broke loose.
Sidney, a highly touted McDonald's All-American out of Fairfax (Los Angeles) High, sat out all of last season while awaiting clearance from the NCAA. He has appeared in just two games this season and scored 31 points with nine rebounds. Just this week, he was suspended by Coach Stansbury for "conduct detrimental to the team" and was benched for the first-round loss to Washington State on Wednesday. Now this? If I were in charge. I'd send him right back to Los Angeles.

It's amazing that kids aren't being raised with any fear of their parents or other family members. When I was coming up it was mandatory that you were afraid of someone at home. Your father, mother, uncle, Big Momma or all of the above. You wouldn't dare go out in public and act a fool because you new that somebody with your last name or blood type was going to show up and embarrass you. No doubt about it. Don't let Big Momma show up at the school with her rollers and house shoes on.
Even if you wanted to act up. That internal voice told you to slow down and put it in park. Everyone growing up has to be afraid of somebody in order to become successful or they'll end up in jail or dead prematurely. Now the term "afraid" evolves over a period of time to mean "respects someone at home to the point that I don't want to let them down".
Remember at the beginning of the 2009 college football season when
LaGarrette Blount
punched the kid from Boise State? Now I completely understood why he hit the guy. The kid from Boise was talking trash as they were walking off of the field and Blount's adrenalin was still rushing. No telling what the Bronco player said to him. So I get it. However, after the Oregon players tried to restrain him, he kept going. He then allowed the Boise State fans to badger him to the point where he was completely out of control. At no point did the thought, " my old man is gonna be pissed or Big Momma is watching this on TV, so I need to chill" go through his mind. I know that if it were me out there. My dad would've been standing in my dorm room when I turned the key and God knows what would've happened. It's called being held accountable!
We can't keep sending our children out into this world unprepared to deal with it. When you raise your child and don't teach them to have respect for themselves or authority, you've crippled them. I wrote an article just last month called
"
Momma's Boy
"
about Vince Young and his tirades and how the people in his life have failed him miserably. We're going to continue to see this foolishness from our young people as long as there is no fear for the adults at home or those that have some type of influence in their lives. What's your opinion?
Jay Graves
Information from The Associated Press was used in this report.