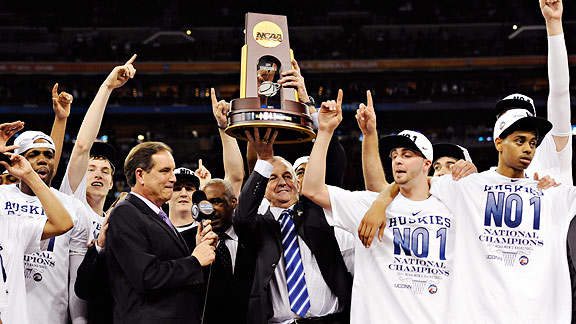 "UConn outlasts Butler to win the National Title"
 The University of Connecticut wins an ugly battle over Butler 53-41 to capture the 2010-2011 National Championship. This game was for all of the marbles but it sure didn't look like it.
Kemba Walker
scored 16 points to lead Connecticut and Jim Calhoun his third national championship, something only four other coaches have done. The Huskies did it with defense holding the Bulldogs to a Final Four-record low 18.8 shooting percentage (12 for 64). They capped one of college basketball's best postseason runs, winning six games in the NCAA tournament after winning five games in as many days to win the Big East title.
It was the second straight year Butler lost in the championship game. Last year they were beaten 61-59 by Duke. You've got to give it up to Butler for being resiliant enough to not only making it to the national title game two years in a row but running with the big dogs the entire way.
They don't have an NBA caliber player on the team yet they've played in two consecutive title games. That is a testiment to their character and coaching staff. It's not all about having the best talent it's about putting forth the maximum effort. Kids all over the country have learned something from the Butler Bulldogs! Do the best you can with what you've got and you'll be successful.
Congratulations to the UConn Huskies!!
Jay Graves
jaygraves@thejaygravesreport.com
Follow me on Twitter: @jaygravesreport
Information from the Associated Press was used in this article.